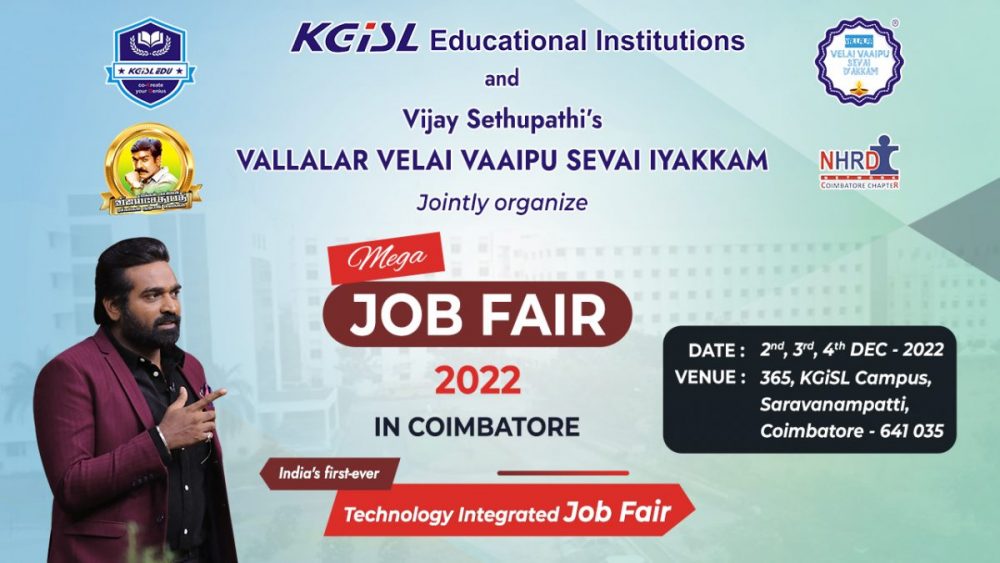 MEGA JOB FAIR – 2022 KGiSL Educational Institutions
Pursuing a good career is a dream for many. KGiSL Educational Institutions has united with Vallalar Velai Vaaipu Sevai Iyakkam to organize a mega job fair creating opportunities for job seekers in order to get a fulfilling job. The Mega Job Fair – 2022 is held at KGiSL Campus, Saravanampatti, Coimbatore. This is India's first-ever Technology-integrated job fair.
All participants were encouraged to register for the event in advance. Candidates with any of the following educational qualifications can participate at the fair:
SSLC, HSC, Diploma, Engineering (any discipline), MBA, Business Management, Computer Science, Life Sciences, Health Care, and others.
The Key highlights of the Mega Job Fair – 2022 are:
200 organizations from 22 sectors are hiring candidates for nearly 20,000 positions.
The candidates are allowed to participate in any number of interviews.
The Mega Job Fair is completely free for all candidates.
The event has been planned for three days that is on the 2nd, 3rd and the 4th of December, 2022. The occasion kickstarted with a welcome speech by superstar Vijay Sethupathi, followed by Padma Shri Dr. G. Bakthavathsalam, Chairman, KG Hospital. The other dignitaries from diverse industries also welcomed the participants and the recruiting managers of various organizations.
On the first day, industries from the following sectors are hiring candidates:
Auto Components – 5
Automobiles – 18
Engineering & Capital Goods – 5
Manufacturing – 42
On the second day, the following industries are hiring candidates:
Agriculture & Allied Industries – 2
Banking – 3
E-Commerce – 5
Education & Training -4
Financial Services – 17
FMCG Manufacturing – 4
Foundry – 3
Gems & Jewellery – 7
Health Care – 8
Hotel & Restaurant – 4
Insurance – 4
Logistics & E-Commerce – 2
Pharmaceutical – 1
Power – 1
Real Estate – 3
Renewable Energy – 1
On the third day, industries from the following sectors are hiring candidates:
IT & ITES – 20
Others – 5
Retail – 9
Telecommunication – 4
Textiles & Garments – 3
Participants from all over Tamil Nadu participated in the Mega Job Fair – 2022. Since industries from 22 different sectors are hiring candidates, this job fair has created a window of opportunities for candidates from various backgrounds.
The candidates who cleared the interview received their job offers immediately and the candidates who did not go through the selection process soldiered on with grit to participate in the next interview. All recruiting managers are awarded a c Certificate of Appreciation for their contribution and participation at the job fair.